Magical Santa Experience
Our Magical Santa Experience: imagine being immersed in your own PRIVATE exchange with your children or grandchildren. As an example pouring milk for cookies, story time with Santa even a special gift for your child. You can expect images like these below.
FOR MORE INFORMATION AND TO BE ON THE WAITING LIST FILL OUT THE INFORMATION BELOW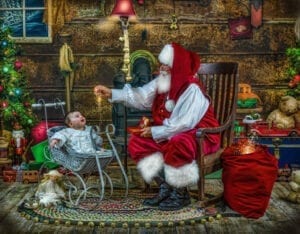 Magical Santa Experience
Photos By Glenna has curated a gorgeous product line exclusive to our Magical Santa Experience.To begin with this will beautifully preserve the wonder in your images. With an amazing Storybook album. This is something that we have been planning for approximately a year. I have been to antique shops all over New Jersey as well as my favorite one on Sanibel Florida! Finally, found everything we need to start these Christmas in July Magical Sessions.
 I was lucky enough to take a class and learn from Larry Hersberger where these images were created at his workshop. He started and perfected the Magical Santa Experience. As a result, this has allowed me to bring Santa to Marlboro, Manalapan and Monmouth County. I really feel this amazing opportunity to bring your children and grandchildren together, for an experience with Santa, that you will never forget.
Marlboro and Manalapan NJ
 Will be in for so much fun with Santa this Fall. Your little ones will spend approximately 30-40 minutes along with Santa in his magical Santa experience workshop. Then, they will eat milk and cookies while with taking pictures with Santa and much more! Every minute they will be helping Santa create magic and it will be so much fun. The Portraits and Storybook Album that award winning Photographer, Glenna will create from this experience. Are exquisite hand-finished art pieces with 'magic' sprinkled throughout.
Imagine the joy you and your children will re-live every Christmas season when you display these cherished memories in your home. This is a rare opportunity to capture your children's unconditional belief in Santa, with portraits like you have never seen before.
This is alone time between Santa and your Children. With reserved times with no lines, no crowds, no wait and no long drives.
I can promise you that this is something your children and Grandchildren will never forget.
Now Accepting Reservations for
2019 Book for Christmas in July 20 & 21 or sign up for the waiting list for November.
Call 732-207-2422 To Reserve Your Experience
Read more HERE