Monmouth County Photographer Celebrating July 4th – it's time to start making plans! If you know this Manalapan professional photographer, you know that I love summertime. Taking that into account it makes sense that celebrating Independence Day is one of my favorite things to do.
July 4th Is the Perfect Holiday
Without a doubt, it is easy for me to share that in my opinion, July 4th is the absolute perfect holiday. Especially when you live in Monmouth County. Consider some of the reasons it is so high on my list.
Firstly, the day is a low-expectation event. By that, I mean that we don't need to buy and wrap gifts or search for a special outfit. There is no need to spend hours in the house, setting a table with fine china and hoping the turkey doesn't get dried out. It's easy! Shorts and tank tops, a bathing suit, and flip flops. Burgers and dogs on the grill. Paper plates and red solo cups – we are good to go!
Secondly, we can spend it at the beach. As a Monmouth County beach photographer, I spend lots of time on the Jersey Shore taking professional pictures. But, I also can be found at Long Branch or Asbury, or Avon on my days off. Some of my favorite restaurants are in these beach towns. (As an aside check out Porta for great pizza, Hummus Republic for delicious Greek food, and Columns is an awesome spot for cocktails!
Lastly, I can still take lots of pictures. As a professional photographer, I feel naked without my camera. Most of the time, I have it with me, even when I am not working. That said, when I do leave it home I'm not ashamed to rely on my iPhone. Unquestionably, improvements in technology have allowed me to continue to shoot wherever I am!
Monmouth County Photographer Things to Do: Celebrating July 4th, 2023
The options for July 4th activities in Monmouth County are considerable. I find myself struggling to decide what I should do. Luckily, this year there we have so many choices. Consider some of the following:
Enjoy a BBQ
Clearly, the 4th of July is made for a cookout! And, I love being a guest. My favorite thing to do is to stop by Delicious Orchards in Colts Neck to pick up fresh fruit and yummy baked goods. The cookies are a big hit at an outdoor party!
Monmouth County Photographer Spend the Day at the Beach
Unquestionably, the beach is my happy place. Nothing brings me greater joy than to spend the day with my toes in the sand. One of my favorite things about living in Monmouth County is the access we have to a host of fabulous beaches. Whether you visit Asbury Park, Avon-by-the-Sea, Long Branch or Belmar, or one of the other great local spots, you are guaranteed to have a good time.
See the Fireworks
Clearly, it's not July 4th if you don't see some awesome fireworks. Luckily, there are a bunch of options this year. I'd like to send a big Thank You to New Jersey 101.5 for compiling a list of all the fireworks displays in the state, including those closest to us! Most of our beach towns will be sponsoring fireworks this July 4th. Check out their websites for more information. Of particular note, Long Branch will once again host Ocean Fest – it promises to be an event to remember.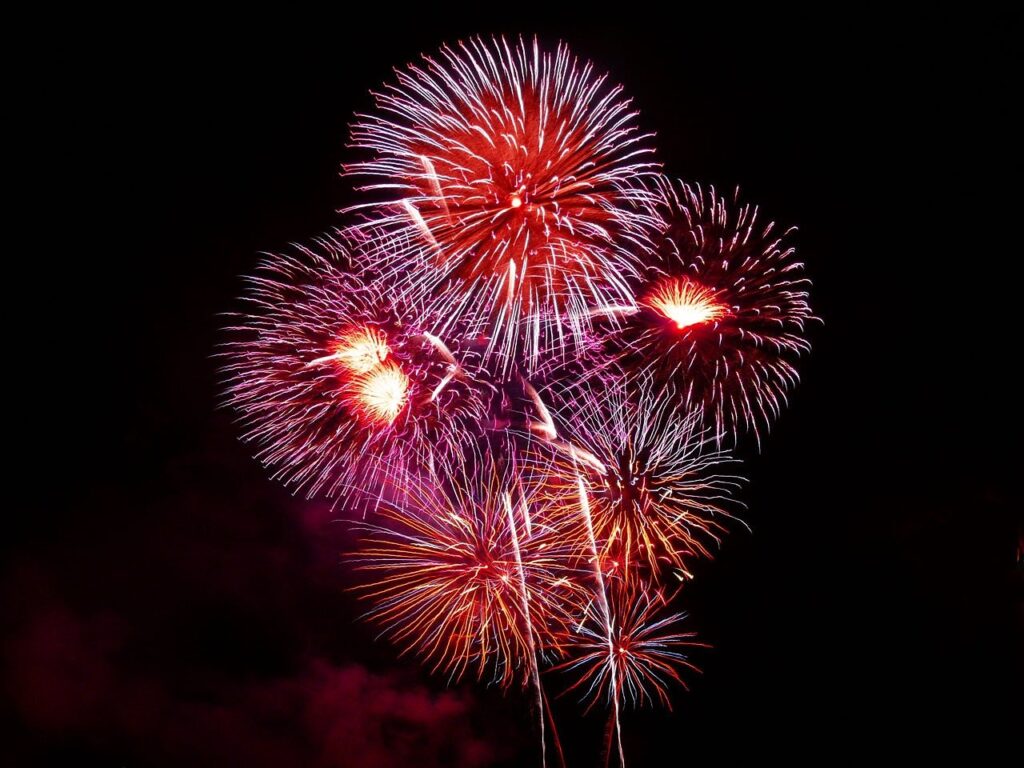 Things to Remember on the 4th of July
Regardless of where you elect to celebrate the holiday, I've got some tips for you! Firstly, don't forget your sunblock. You will likely be spending at least a portion of the day outdoors, so make sure you have the protection you need.
Second, if you are celebrating with young children this year, make sure you bring a change of clothes, for them and you! You never know what will happen. Sand and water-coated clothes are uncomfortable at best. And even if you are not headed to the beach and are spending the day with friends, spills happen. As a Monmouth County Photographer, you are always better safe than sorry!
Finally, snap some pictures. Of course, you don't want to be beholden to your phone — being present is so important in life. But, do take the time to snap a few pictures – and make sure you get one of your entire family. Holidays are the perfect time for making memories – and a picture is the best way to make sure you never forget! As a Monmouth County Photographer I know I don't !
Summer is a great time for taking pictures – if you haven't had professional photos taken of your family in a while, take advantage of the weather and the time off of school to schedule a photoshoot. Summer 2023 is going to be memorable – I can feel it. I'd love to capture it on film for you!
Contact Me Today
Think it's with you, learn more about some new family photos. Then reach out to me today! I'd love to chat with you, learn more about your family, and make a plan to take some awesome pictures. I promise the experience will be incredible and the photos will help tell the story of your family and Summer 2023. In the meantime, enjoy the summer and celebrate on the 4th of July.
xoxo,
Glenna