Do any High School Senior's need to volunteer for NHS?
In September of 2016, Stacy Wiener begin crocheting soap sacks on the beach to donate to local homeless shelters. Stacey's creation has made its way across the world! Soap Sacks for Charity, or S.A.C.K. (Supporting A Community with Kindness is a non-profit that helps connect people from all over the United States. Thankfully, they are interested in crocheting/knitting soap sacks for donating to homeless shelters, food pantries, transitional housing centers, United way. Even the Salvation Army benefit's from S.A.C.K. Over 9,000 soap sacks have been distributed nationally over the past two years!
The design is simple!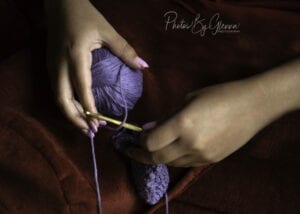 And it is 4×6″ enough room to hold a standard bar of soap. Also, a paper tag with a short message is attached to each sack, giving the donation a personal feel. Because of this thousands have followed suit and together have formed a movement Weiner now calls S.A.C.K. – Supporting A Community with Kindness. Crocheting these sacks are a fun and easy activity! It targets a particular need Wiener noted in her community. "Throughout the under-served population, there's definitely a need for toiletries," she said. "Realistically speaking, if people have extra money, they're going to buy food for their family. Obviously they are not going to go out and buy a bar of soap."
If you are interested in helping Soap Sacks for Charity
Therefore, my hopes are that you are interested in helping this amazing organization! Or Maybe, you need this organization. Please click HERE to find all of the information. Within this website, you can find a Sample Crocheted Soap Sack Pattern. These Soap Sacks for Charity come with tags that say ," this soap sack was crocheted with love by S.A.C.K volunteers, supporting a community with kindness. They can be used as a small washcloth or to store a standard bar of soap. They aren made from cotton yarn and are warm and soft. In conclusion, this website will also give you the recommended yarns as well as connecting yarns, and places to donate.
Perhaps you are interested in learning more,here is a LINK to the FAQ page. It really answer's all of the question's you could possibly have. Click here to view my page.
If you are interested in a Photo Session with PhotosByGlenna please click here.